Owner, KO Kung Fu Karate
First Generation Disciple of Grandmaster Richard Lee
Bok Fu Do Master Black Belt with over 35 years of experience
IBFDA Executive Vice President
6th Tuan Red Sash with the World Kuo Shu Federation
West Coast Regional Director of the United States Kuo Shu Federation
Represented the USA in the 1992 World Kuo Shu Championship; Republic of China, Taiwan
Represented the USA in the 1992 European Cup; Malaga, Spain
Coached National and World Martial Arts Champions
Founder of KO CAREs (Community Assault/Abduction Resolution Efforts)
Self-Defense instructor for corporate, community, and law enforcement agencies
OZUNA PRODUCTIONS, LLC.
• Director/Host/Actor of "Save Your Life" TV Documentary; Winner of the 2011 National Telly Award
• Producer/Director/Host of upcoming film "Bridge Angels" to be released in 2015
• INTEL CORPORATION Guest Speaker to top Information Technology (IT) Managers from seven countries on topics: Coaching and Motivating employees
• GAP INCORPORATED Academy of Leadership Video Guest Speaker to global Executive Managers on topics: Coaching and Energizing employees
• Community guest speaker on topics of Leadership, Coaching, Motivation, Self Defense and Goal Achievement
• Appeared in Channel 5 KPIX, KRON 4, Channel 11 KNBC, and Telemundo T48 KSTS as Expert safety consultant
• Numerous TV commercial appearances for KO Karate school
Organizations
USKSF United States Kuo Shu Federation - West Region Director, January 2009 – Present
TWKSF The World Kuo Shu Federation - International Executive Referee, January 2004 – Present
- 2014 Featured article in Image and Style Magazine
- 2012 Featured article in INN magazine
- 2011 Inducted into the International Kenpo Hall of Fame
- 2010 Recorded in Guinness World Record Book
- 2008 Guinness™ World Record Holder for Fastest Martial Arts Punch at 43.3 mph
- 2008 Guinness™ World Record Holder for Most Martial Arts Punches in a Minute of 713
- 2008 "Best of the Best" and inductee into the USA Martial Arts Hall of Fame Alumni
- 2008 Featured articles in Inside Kung Fu magazine
- 2008 Highlighted in BLACK BELT Martial Arts magazine
- 2007 "Master Instructor of the Year" and inductee into the USA International Black Belt Hall of Fame
- 2006 Finalist in USA Kung Fu Star International; Asia's 'Kung Fu Idol' reality competition
- 2006 Featured article in Contra Costa Times
- 2004 National "Instructor of the Year" and inductee into the USA International Black Belt Hall of Fame
- 2004 "Martial Artist of the Year" and inductee into the USA Martial Arts Hall of Fame
- USA International Certified Referee in US Kuoshu Tournaments
- USA Kuoshu Coach in US Kuoshu Tournaments
- 1992 USA Kuoshu competitor in Spain at European Cup
- 1992 USA Kuoshu competitor in The Republic of China at 7th World Kuoshu Tournament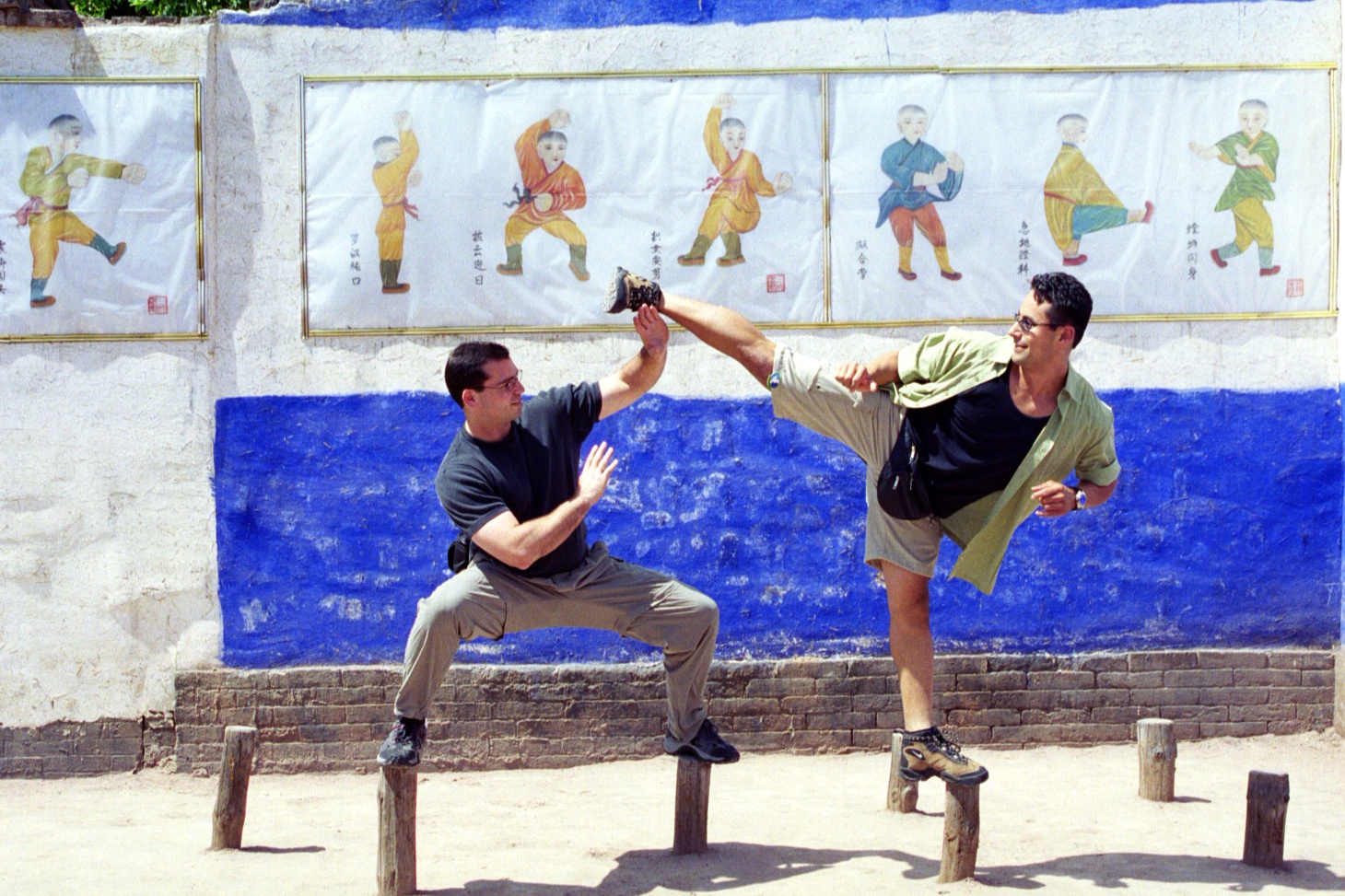 Brief Bio:
Master Ozuna began to study Martial Arts at age 6 when he took a course in Judo. From a very early age he was intrigued both by Chinese and Asian cultures and particularly fascinated by the way these cultures are expressed in both the hard and soft forms of Martial Arts. He saw his first Kung Fu demonstration at age 7 in Chinatown (San Francisco). Ever since then he wanted to pursue Chinese martial arts.
Master Ozuna had always promised himself that he would eventually return to martial arts. His plan was to join along with his best friend Damien Leyva. Sadly, Damien tragically lost his life. Keeping his promise to Damien, he continued in June of 1981, at age 13. He attended his first class at the San Jose location of the Richard Lee's East West Kung Fu Karate School where he met Grand Master Richard Lee and began his studies of Bok Fu Do.
Master Ozuna began instructor training as a white belt! He pursued his studies with such dedication and drive that Grand Master Lee commented, "You are going to be one of my Black Belts someday". His path became clear. Master Ozuna became an instructor at East West less than a year after beginning his Bok Fu Do training. He earned his Black Belt in the summer of 1988 after a long and grueling testing process.
Master Ozuna co-founded K.O. Kung Fu Karate School with David Kirby in the summer of 1989. The name K.O. was taken from the last names of the two founders (Kirby, Ozuna) and does not stand for "knockout". They decided the name "O-K Karate" was not as appealing. Mr. Kirby left in 1992 and Master Ozuna became the sole proprietor, but decided to leave the name the same. The school remained in Gilroy until the end of 1994. At that time, it moved to San Jose.
His most memorable tournament by far was the first World Kuoshu Championship held in Taipei, Taiwan in 1992. Grand Master Richard Lee coached the U.S. Championship Team. At the time John Ozuna weighed 143 lbs and was supposed to fight in the "lightweight" class (max weight 144 lbs). Due to a last minute coaching decision (not by Grand Master Lee) Master Ozuna was bumped up two weight classes to fill a vacant spot on the U.S. Team. Two weight classes put him in the "light heavy" weight class which has a max weight of 175 1bs. At the first weigh-in, Master Ozuna was told he could not fight as a light heavy weight unless he gained 25 lbs!! He had 1 hour to accomplish this. After eating multiple apples, oranges, power bars, etc. he realized he needed another weight gain solution. His team uniform (a sweat suit) had several pockets. His teammates helped out, filling his pockets with water bottles, cameras, fanny packs of coins, etc. At the next weigh-in he tipped the scales at 151 lbs, 17 lbs short of the mark!! He was allowed one more attempt. After he acquired the remainder of the U.S. teams complete portfolio of cameras and assorted electronic devices, at the final weigh-in, Master Ozuna met the bar and qualified to fight as a light heavyweight.
Here are some words from Master John Ozuna:
"When I recount my experiences as a martial artist, I am compelled to describe them in terms of my relationship with Grand Master Richard Lee and how he has shaped my life and my journey as a student of Bok Fu Do. At every turning point and milestone he was there, gently guiding me to make the right decisions. His quiet support delivered with a hint of humor, was heard loud and clear. His teaching gave me the confidence and direction I needed to endure life's most extreme challenges while constantly striving to be a better martial artist, and more importantly a better person.
Grand Master Lee gave me a template for how to live my life. There are many martial arts students who consider themselves experts and thrive on recognition. His mild-mannered approach to teaching and his low-key confidence served as a model to how I should live. He taught me the importance of humility. The most effective martial artist tends to be the most unassuming because they are confident in their abilities and don't have to be demonstrative. Humility allows us to accept instruction at any level, and continue to build knowledge and understanding. He has taught me how to diffuse a tense situation. When someone is aggressive, you must remain controlled. When someone is permissive, you must be assertive. By showing me this, he helped me see that the tenants of martial arts can be applied to everyday life. They can be useful anytime, anywhere and in any situation.
I could never fully express my gratitude for Grand Master Lee's wonderful gift of knowledge and time. I can only help him to continue his legacy with the same integrity, standard and philosophy as he intended."